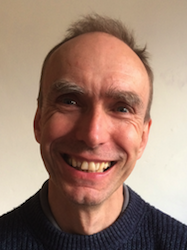 Jon Hunt – Speech & Language Therapist
I'm a UK-based speech and language therapist specialising in aphasia. I was privileged to work in the NHS for 20 years, leaving in 2012 to begin work on a therapy app, Cuespeak.
My aphasia journey began in Bristol in 1987 when I met a man called Richard, who had aphasia. After meeting Richard's speech therapist I knew instantly that I wanted to become one myself, and that I wanted to specialise in aphasia. As someone who is fascinated by language, the thought of trying to penetrate the mysteries of what is going on when someone loses their language, as happens in aphasia, seems like an irresistible odyssey.
During my four years at City University of London I was lucky enough to land a clinical placement with Eirian Jones, an inspirational and highly innovative therapist, at Addenbrokes Hospital in Cambridge. The spirit of her work lives on in mine today.
Working with people with aphasia for many years has allowed me to develop a series of techniques and methodologies that I have seen improve peoples lives. I really wanted to bring these to a wider audience, and when the iPad was first announced I knew this would be an amazing tool for therapy. The idea for Cuespeak was born and a long process of trialling, testing, adapting and refining was started. I would like to thank all my patients that have so enthusiastically used Cuespeak for their therapy and their continuing help in shaping the app.
There's so much more that we want to do, and we can't wait to bring you more innovative and effective therapies.
Robin Keech – Developer
I've been trying to make computers do what I want since 1983 when I finally managed to pester my long suffering parents to buy me a ZX Spectrum.
Most of my working life has been focused on technology. I've worked in many tech industries over the years and finally fulfilled a lifelong ambition of working for myself in 2010 when I became a consultant. I love the sense of achievement of breaking complex problems into small solvable chunks and building those back up into really useful tools. It's incredible to think how far technology has progressed since those early days. There are now so many languages, platforms and frameworks to know. It's a lot to keep track of, but the possibilities are endless.
I've also had some fascinating diversions into archaeology, music, environmental conservation and art. I really draw on those experiences to make our technical products more human. It's been a wild ride!
The best thing to come out of my consultancy practice was meeting Jon. He had a crazy vision for a seriously complex speech therapy application. We worked closely together for around 3 years, transforming early prototypes and ideas into a working product, until the first version of Cuespeak was released in September, 2017. Jon was one of the best clients I had ever worked with, he is hard working, switched on, an expert in his field and has so much passion for improving people's lives by bringing back their power of communication. With the first release of Cuespeak complete, we knew we wanted to take the app further. It's come a long way since that first release, and there is so much more to come….
I'm really proud of the work Jon and I have created – it really is the culmination of more than one life's work. I hope you find it easy to use, beautiful, intuitive and rewarding.