Introducing a powerful new aphasia therapy tool for iOS
What is Cuespeak?
Cuespeak is a Speech and Language Therapy workstation for iPad and iPhone, featuring a suite of therapy exercises produced in the UK by a specialist in aphasia, a communication disability caused by stroke and other neurological disorders.
Cuespeak is designed for use both by clinicians and by people with aphasia. The exercises are suitable for adults with any severity of aphasia, including those diagnosed with apraxia of speech and those with associated cognitive problems.
Research has shown clearly that people can benefit from therapy even years after the onset of their aphasia, so length of time post-onset is not an issue.
How is Cuespeak used?
Cuespeak can be used both with and without a therapist present. The ideal scenario is to start a session with a specialist speech and language therapist, who will configure the programme to the individual's needs. The person with aphasia will then use the app for independent practice until the next session with the therapist.
However we realise that not everyone can access professional help, so Cuespeak is also designed for completely independent use. The settings menu contains presets which simplify the process of configuring the app for when no therapist is available.
How is Cuespeak different?
The exercises in Cuespeak feature a large amount of spoken feedback on errors and spoken cues to facilitate spoken word production. They are also highly customisable to the needs of each individual. The programme allows the user to organise exercises into sessions which run automatically at the single press of a button. And there is humour!
Remote Monitoring & Configuration
A Cuespeak session can be monitored and configured remotely by a Speech & Language Therapist or a family member. All you need are two iOS devices running the same version of Cuespeak.
How does it work?
Turn on remote monitoring in your profile
Touch the share icon on the main screen to create an email containing your exercises and results
Send the email to the person helping you
After they have reviewed your results and altered your exercises, they will return an email with your updated settings
Click the button to import your new session
How much does it cost?
Cuespeak is free to download and use with a limited set of trial content. If you find Cuespeak useful, a licence can be purchased to unlock the full library of content to access all 10 therapy modules, including over 4,000 questions, 9,000 images and 2,500 articulation videos.
1 month, auto-renewing licence
Automatically renews, cancel at any time
1 week FREE trial
1 year licence
Non-renewing, fixed term licence
No trial available
3 year licence
Non-renewing, fixed term licence
No trial available
What are the exercises like, and what do they cover?
The therapy exercises in Cuespeak address the full range of difficulties encountered in aphasia and apraxia of speech, including word finding, sentence production, understanding speech, reading comprehension, writing and articulation. Exercises are designed to be enjoyable to carry out, with smatterings of gentle humour here and there.
Most exercises use an interactive question and answer format, meaning that speech and language stimulation takes place in a context which goes some way towards emulating the demands of everyday communication. There is a range of help available for when the questions prove difficult to answer, including spoken feedback on errors and spoken cues to help elicit spoken responses to questions. Exercises are highly customisable to individual needs, making them suitable for people with anything from mild difficulties to very severe difficulties.
How can I help?
If you find Cuespeak useful, please tell others about it, and review the app on the AppStore. If you have any suggestions or requests, either for modifications to existing exercises or for new exercises, please let us know.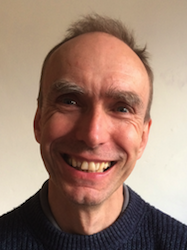 Jon Hunt has worked as a specialist SLT with people with aphasia for 25 years. He has been particularly inspired by the work of Eirian Jones, an eminent UK SLT who developed groundbreaking approaches to therapy targeting semantics, phonology and sentence processing.
Jon worked as a therapist in the UK's National Health Service for twenty years before beginning work on Cuespeak in 2012. He has given guest lectures at universities across the UK on therapy approaches for improving semantic access and sentence processing skills, and on differential diagnosis of aphasia from apraxia of speech.
Robin Keech runs the UK-based app development company Disobedient Media. They specialise in complex and challenging projects, and are looking forward to developing Cuespeak further.
Brilliant! The most comprehensive aphasia app that I have ever seen!
Cuespeak has become the "go to" app in our team. The contents and design clearly shows the developer understands aphasia therapy and what people with aphasia and their therapists want.

The app deserves 5 stars.
Hugely impressive… It's the first time I've seen a language therapy app that really makes use of the potential of the technology
This is the best therapy tool I have ever used. The levels, variety, clear pictures and breakdown of material is perfect. I introduced it to my dysphasic client just now and he was beaming with delight. The app both challenged him and gave him material he could do easily. He was delighted to read, select choices and then repeat grammatically correct sentences for the first time in 2 years.
Using Cuespeak app with my dyspraxic patient having difficulties at 3+ syllable word level and set up a package to directly target what he needs – an amazing app for aphasia and dyspraxia – thank you @cuespeak. It's amazing !!!!! Could not believe I could select so many different elements to target exactly what he needed – I'm in awe!
The variety of tasks, including activities that other apps do not address, makes it versatile to use with many patients. The quantity of practice items within each task is impressive and means that boredom is avoided, and a large quantity of practice is easily achieved. The app is easy to use, works smoothly and is visually attractive. Optional video tutorials are provided for each task and patients working independently might use these.
I have been using this app so much in the last 6 months as it's brilliant and clients love it! The fact that it updates itself regularly with current affairs puts it so far ahead of other apps. Thank you @cuespeak changing the face of SLT apps! #aphasia #slt #future
The material is interesting and relevant, and a bonus is the addition of some humour. The tasks address a wide range of language and speech processing including semantic judgement, phonological access, orthographic access, sentence construction and speech production. There is plenty of "within task support" if extra cues are required and this contributes to the product resembling therapist delivered therapy. 
Our SLT team had a fantastic demo of this amazing app today by Jon Hunt. Very versatile, customisable, great for assessment and therapy. Topics are updated weekly so are current and engaging.
Currently working with a client using @cuespeak and he is so engaged with it that his attention has also improved. Fab app. Introduced to the app through the @BasAphasia symposium last year.
An amazing app that will massively save time and resources