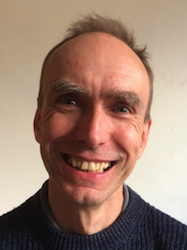 Clinical Director, Speech & Language Therapist
I'm a UK-based speech and language therapist specialising in aphasia. I was privileged to work in the NHS for 20 years, leaving in 2012 to begin work on  Cuespeak.
My aphasia journey began in Bristol in 1987 when I met a man called Richard, who had aphasia. After meeting Richard's speech therapist I knew instantly that I wanted to become one myself, and that I wanted to specialise in aphasia. As someone who was fascinated by language, the thought of trying to penetrate the mysteries of what is going on when someone loses their language, as happens in aphasia, seemed like an irresistible odyssey.
During my four years at City University of London I was lucky enough to land a clinical placement with Eirian Jones, an inspirational and highly innovative therapist, at Addenbrokes Hospital in Cambridge. The spirit of her work lives on in mine today.
I had long been interested in the potential of computers to contribute to the therapy process, but this potential became obviously greater with the arrival of the iPad, and it was this that prompted the beginnings of Cuespeak. The inital process was long, involving five years of trialling, testing, adapting and refining before the first version of Cuespeak was released in 2017. I would like to thank all the people with aphasia who so enthusiastically participated in the early trials, and who continue to help in shaping the app as it develops further.